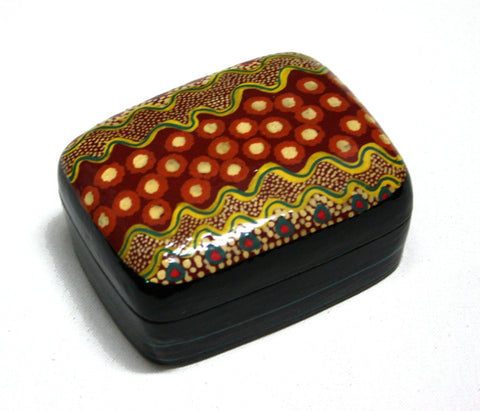 Rama Kaltu-Kaltu Sampson - Mingkiri Tjuta Tjukurpa (Marsupial Mouse Dreaming)
Keepsake box, handmade using recycled paper and or recycled wood. This traditional, handpainted and lacquered Kashmiri handcraft features a design based on an artwork by Aboriginal artist Rama Kaltu-Kaltu Sampson.
As every box is handmade and therefore unique, the product may vary slightly from our image. 
Dimensions: 5 x 9 x 11cm.
Produced through a cultural and economical exchange program between the artists of the APY Lands of Central Australia and the artisans in Srinagar Kashmir.
---
We Also Recommend